Tan Yee Hieng
For 2 years, I have been jogging and running in the park, three to four times per week. It is the cheapest and most accessible form of exercise. All you need is a pair of running shoes! I finally got bored and kept finding excuses for myself to stay home – the weather was my favourite reason. My rest days became longer and longer and I stopped running altogether. It came to a turning point where I was determined to stop my sedentary lifestyle and give myself more challenges. Hence, I decided to sign up for PushMore's Foundation Series.
I always thought that CrossFit is a tough regime and its workouts are for armies – they will break all my bones. Only the elite athletes are qualified to be members. Everyone in the gym looks like Mike Tyson – big, burly and muscular. People like me (small sized and skinny) should stay away.
Here, I learned that all movements are scalable and progressive. Proper forms are greatly emphasized to prevent injury and hence, no bones breaking here. There's room for all levels. Size does not matter and it does not equate to greater or lesser strength or speed. Everyone has some form of weaknesses and some advantages.
I witness now that "training-with-weight-makes-you-bulky" is really a myth. Bulky is a wrong term – Powerful would be apt. I begin to appreciate the beauty of weightlifting, where previously in my running years, I would never even watch the event.
The PushMore coaches are most encouraging and generous with tips and advice. The whole community is generally supportive and welcoming. I also like the workouts here as they are designed to help us develop our skills, strength and endurance. Training here is never boring as the workout combinations vary from day to day. Not a single muscle will be spared!
One of my biggest challenges is to actually sign up for the foundation class; I can't do pull-ups, push-ups, handstands; barbells, dumbbells and kettlebells skills are alien to me. I am worried I might not be able to follow the class or I couldn't even survive the first class. The first day I stepped into PushMore, I saw a group of members lifting weights while some were doing pull-ups and I wondered if I should just go home. However, the foundation class is a good place to start; we were exposed to the basic movements and it was fun (thanks, Jason!). In every class, there is something new to learn. I really look forward to going to the box!
The coaches scale our workouts and guide us through very well. They push and encourage us at the same time. Else, I would never want to step out of my comfort zone.
After a year of training, I have better endurance and this helps in my running. I also learnt to work and engage different muscles, not only on the legs. Effective training in short timeframe; hence, no more excuses for being busy. No more monotonous trainings. Training could not have been more fun!
I have developed better eating and sleeping habits. I can now manage a few reps of proper push-ups and pistols (still a lot to improve on, of course!) and am still progressing. In general I feel healthier and happier!
My self-esteem improved; training with the happy bunch here has positive effects on my emotional well-being. I have more interests now – food and outdoor activities; my life does not revolve around my laptop and bed anymore. Also, I am more willing to try out new things. I am glad I have more courage now.
On the downside, my friends will now miss me for dinner because the WODs (Workout Of the Day) are always so tempting. I am simply an "addict" (in a good way) now!
If anyone asks, I will show them some PushMore-built "bods and buns"!
Meet Our Members:
"Just enjoy yourself throughout the journey and be persistent."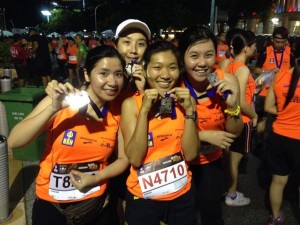 Yee Hieng (N4710)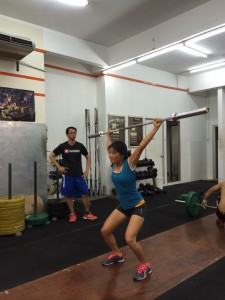 During a Snatch workout